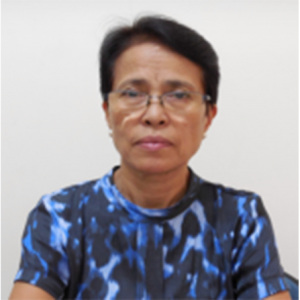 Another "returnee" to the KBF family is Ofelia C. Mendoza, who took on the position of Program Director on March 7, 2016. Welcome back, Ofel!
Ofel had served as Supervisor/Social Worker of KBF's Foster Care Program from 1980 to 1995. She was then hired as Regional Coordinator/Social Services Supervisor/Trainer of Holt International Children's Services in Vietnam form 1995 to 1998 and was Project Coordinator of the Urban Refugee Project, a partnership project of the Community and Family Services International (CFSI) with the United Nations High Commissioner for Refugees (UNHCR) from Dec. 1999 to March 2014.
A former faculty of the Philippine Women's University, Ofel was engaged by the Imus Institute of Science and Technology in completing the requirements of CHED to open the Bachelor of Science in Social Work Course. Likewise a member of team of faculty that helped the Philippine Christian University in the completion of CHED requirements for the opening of the master of Science in Social Work. The BSSW in Imus will open in June 2016 and the MSSW in PCU will open in August 2016. She is currently also a Director, Board secretary and trainor of the Society of Filipino Family Therapists; and a member of the Inter-country Placement Committee of the Inter-country Adoption Board.