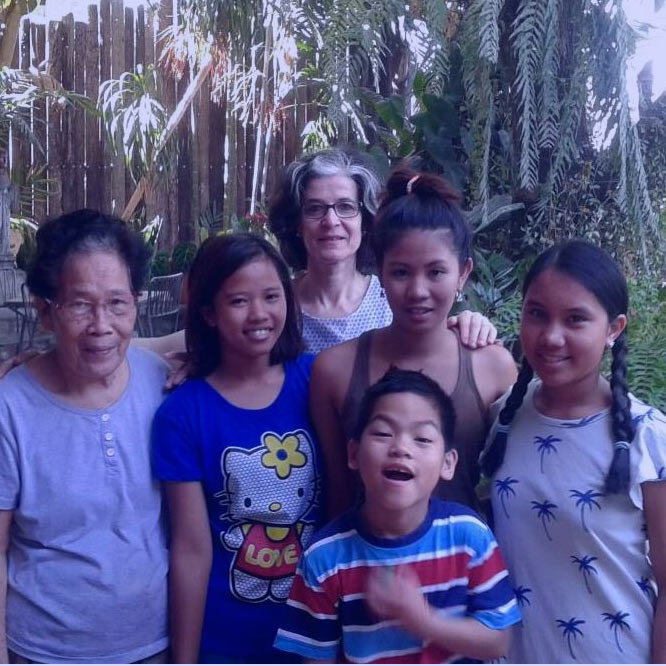 KBF's Foster Care Service provides temporary substitute family care for children-newborn to two years old-when their birth families cannot take care of them, either temporarily or permanently.
For this purpose, KBF maintains a roster of licensed foster families who are committed to providing a nurturing home environment for the children in their care while awaiting return to their birth families or adoption.
Rationale for the Service
The biological family is responsible for providing family life for a child. For this reason, the family is to be protected and preserved whenever possible. Certain circumstances, however-such as a broken home, unwed motherhood, abandonment, serious illness or extreme poverty-may prevent a family from fulfilling its primary function of caring for the child. Thus, substitute parental care becomes necessary. The child is temporarily cared for by others, until his or her biological family is ready to provide a stable and secure home once again or until permanent placement with a new family is done through adoption.
Philosophical Basis
KBF believes that the family is the best environment for a child to grow up in. Only when a child's safety and wellbeing are threatened by physical harm or sexual abuse can his or her removal from the family be warranted.
Foster care offers the child the best alternative parental care, as it allows for individualized attention, nurturing and stimulation needed for his or her development. It assures opportunities for the child's continuing physical, social, emotional, psychological, mental and spiritual growth which may be adversely affected due to separation from the family.
Legal Basis
KBF's Foster Care Service is premised on the UN General Assembly's Declaration on Social and Legal Principles Relating to the Welfare of Children with Special Reference to Foster Placement and Adoption Nationally and Internationally.
Convention on the Rights of the Child, Article 20:
A child temporarily or permanently deprived of his or her family environment, or in whose best interest cannot be allowed to remain in the family environment, shall be entitled to special protection and assistance provided by the State.
States parties shall, in accordance with their national laws, ensure alternative care for such a child.
Such care could include, among others, foster placement, Kafalah of Islamic Law, adoption or, if necessary, placement in suitable institutions for the care of children. When considering solutions, due regard shall be paid to the desirability of continuity in a child's upbringing and to the child's ethnic, religious, curltural and linguistic background.
Presidential Decree 603, Article 68 – Institutional Care:
"Assignment of a child to a foster home shall be preferred to institutional care. Unless absolutely necessary, no child below nine years of age shall be placed in an institution. An older child may be taken into an institution for child care if a thorough case study indicates that the child derives more benefit therefrom."
Children Placed in Foster Care
  Children, newborn to two years old, whether healthy or with special needs who are in need of temporary care.

  Other children who have not been reunited with their biological families or who have not been adopted
KBF's Foster Families
The families on KBF's roster of foster homes are committed to provide love and care to a child or children not related to them. They may be either childless or with children of their own, and are licensed by the Department of Social Welfare and Development.
Since the placement of children with them is temporary, these families are able to handle the feelings of loss and separation that may occur when a child in their care is reunited with his or her family or is adopted.
There are two types of foster families in KBF's pool: volunteer foster families and subsidized foster families. A volunteer family pays for all the needs of the foster child and does not receive a subsidy for the child's care and expenses. A subsidized foster family is given a fixed monthly subsidy for every child in their care, as well as supplies needed for the child's feeding and health.
Assessment of Foster Family Applicants
KBF social workers conduct a Foster Home Study to thoroughly assess and evaluate an applicant family's capabilities for foster parenting. It is done through a series of interviews, home visits, observations and collateral interviews. The conduct of this home study is required by law as a basis for the issuance of a foster family license.
Foster Family Licensing Process
Step 1: Inquiry
  Phone call, office visit, attendance at KBF's Foster Care Forum
Step 2: Application
  Submission of completed Foster Family application form
Step 3: Establishment of Eligibility
  Home visit by a KBF social worker, office interviews, collateral interviews
Step 4: Submission of Required Documents
  Birth Certificate of the couple

  Marriage Contract

  Police Clearance or Barangay Clearance

  Health Certificates of the couple

  Three (3) letters of reference from any of the following:
Friends, neighbors, co-employees, employer, parish priest or any person who can help establish the applicants' integrity and capability to parent
  Letter of consent from the couple's children 10 years of age and above

  Recent family picture (4″ x 6″ or larger)
Step 5: Endorsement to the DSWD
  Submission of recommendation to the Department of Social Welfare and Development for the
licensing of the foster family applicant
Step 6: Issuance of Foster Family Care License by the DSWD
Step 7: Annual Renewal of License
Step 8: Revocation of License
The Foster Family Care License may be revoked for the following reasons:
a. Negligence that causes illness or harm to the foster child
b. Poor health of a foster family member
c. Presence of an environmental hazard to the foster child

For more information, contact KBF at:
#56 10th Avenue, Cubao, Quezon City 1109, Philippines
Tel. nos. (+63)2-912-1159
Fax no. (+63)2-912-1160
Mobile: (+63)917-311-4795
Email: kbf@kbf.ph
ABOUT KBF
Kaisahang Buhay Foundation Incorporated is a private, non-profit child and family welfare organization duly licensed and accredited by the Department of Social Welfare and Development (DSWD). It is registered with the Securities and Exchange Commission, and certified as a donee institution by the Bureau of Internal Revenue and the Philippine Council for NGO Certification. The organization's name, Kaisahang Buhay Foundation, stands for oneness within the family and meaningful life for the children it serves.