Domestic Adoption Service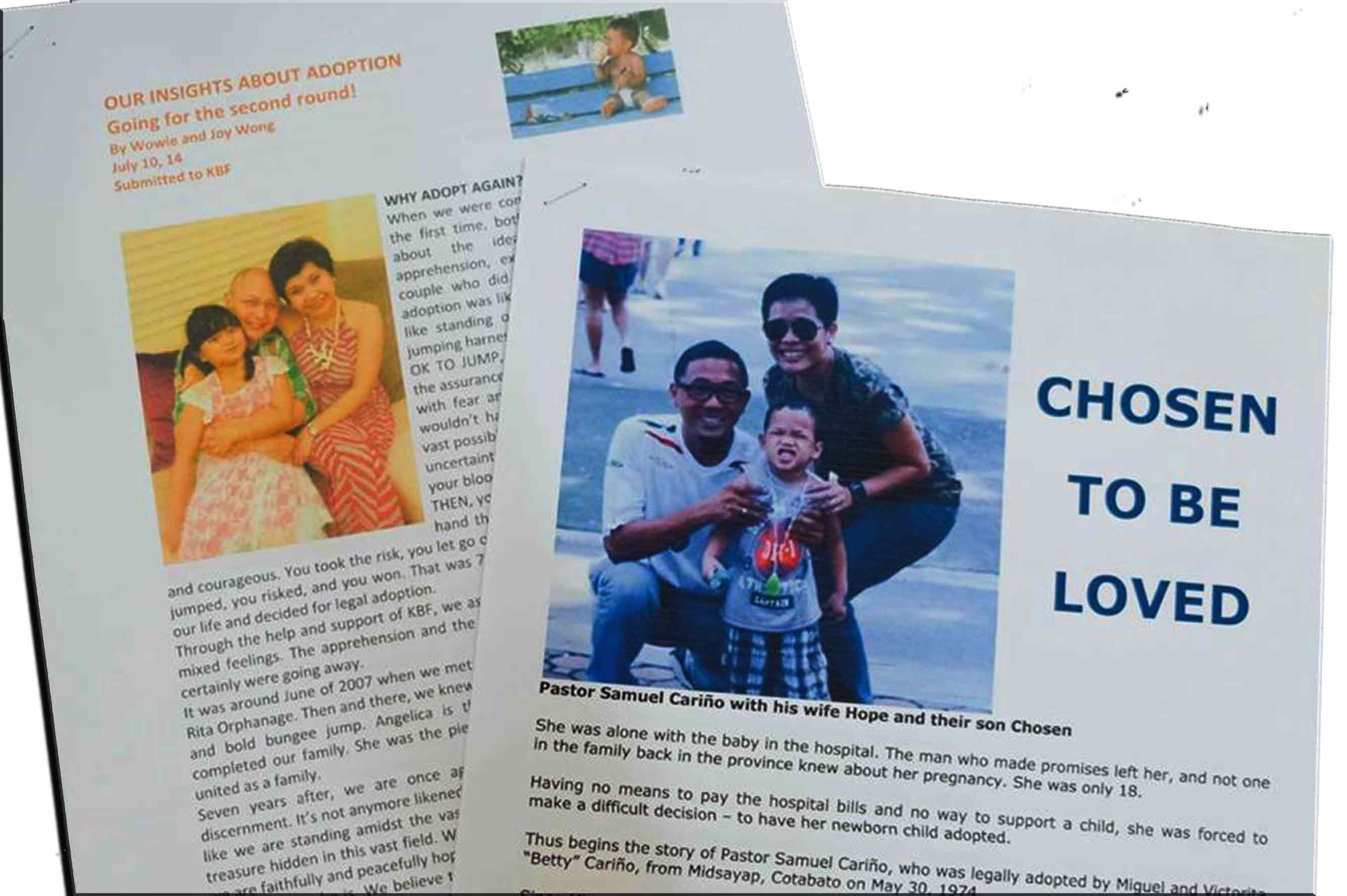 KBF is currently one of only two private child and family welfare agencies licensed and accredited by the Department of Social Welfare and Development (DSWD) to implement domestic adoption in the Philippines.
The KBF Domestic Adoption Service involves:
recruitment, assessment, development and counseling support of qualified adoptive families for permanent placement of children who have been legally cleared for adoption;

socio-legal and other professional services that are required from the time of application to adopt a child until the adoption is finalized in court.
All domestic adoptions are implemented in accordance with Republic Act No. 8552, The Domestic Adoption Act of 1998.
Republic Act No. 8552
The Domestic Adoption Act of 1998
Republic Act No. 8552, otherwise known as "The Domestic Adoption Act of 1998," is an Act establishing the rules and policies of domestic adoption of Filipino children. This Act was passed by both Houses of Congress on February 13, 1998 and approved by President Fidel V. Ramos on February 25, 1998.
This Act ensures that every Filipino child is provided with love, care, understanding and security toward the full development of his/her personality. Only when the care of the biological parents is unavailable or inappropriate, or no suitable alternative parental care or adoption within the child's extended family is available, may application by an unrelated person be considered. However, no direct placement of a child to a non-relative shall be countenanced.
COMMON QUESTIONS ON DOMESTIC ADOPTION:
1. What is adoption?
Adoption is a socio-legal process which establishes a parent-child relationship between persons who are not related by birth. Adoption gives the adoptive child the same rights, status and privileges as those of a birth child.
2. What is adoption service?
Adoption service consists of social work, legal and other professional services that are required in the adoption process.
3. Who are the children in need of adoptive homes?
Children in need of adoptive homes are:
a) those whose parents have voluntarily relinquished their parental authority to the Department of Social Welfare and Development (DSWD), and
b) those whose parents' rights and authority have been terminated by the court due to abandonment or neglect.
4. Who may adopt?
a) A Filipino citizen who is at least 21 years of age and is at least 16 years older than the child to be adopted; in possession of full civil capacity and legal rights and in a position to support and care for his/her children (legitimate or illegitimate) in keeping with the means of the family. [Note: Single individuals are not disqualified from applying to adopt.
b) Any alien possessing the same qualifications as above stated for Filipino nationals whose home country has diplomatic relations with the Republic of the Philippines and who has been living in the Philippines for at least three (3) continuous years prior to the filing of the application for adoption and maintains such residence until the adoption decree is entered/finalized.
5. Where can adoption applications be filed?
a) Kaisahang Buhay Foundation Inc.
#56 10th Avenue, Cubao, Quezon City
Tel. no (02)912-1159, 913-1469
Fax no. (02)912-1160
Email: kbf@kbf.ph
Area of operation: Metro Manila, Region III, Region IV
b) Adoption Resource and Referral Unit (ARRU)
Department of Social Welfare and Development, NCR
389 San Rafael St., San Miguel, Manila
Tel. no. (02)734-8651, 734-8622
c) NORFIL Foundation Inc.
16 Mother Ignacia Avenue corner Don Roces Avenue, Quezon City 1103
Tel. no. (02)372-3755
d) DSWD Regional Offices
e) Local Government Social Welfare and Development Offices
f) Regional Trial Courts / Family Courts
6. What are the documents required for adoption?
Applicants must submit the following:
a. Birth Certificate
b. Marriage Contract
c. Latest Income Tax Return
d. Police Clearance
e. Health Certificate
f. Three (3) letters of reference
g. Affidavit of Consent of children 10 years of age and over of adoptive applicants
h. Recent picture (3″ x 5″)
i. Psychological evaluation, when indicate
j. Affidavit of Guardianship

In addition, foreign nationals shall submit the following:
k. Certification that the applicant(s) have the legal capacity to adopt in his/her country and will allow the child adopted in the Philippines to enter his/her country and permanently reside therein;
l. Certificate of Residence in the Philippines issued by the Bureau of Immigration or the Department of Foreign Affairs, as appropriate;
m. Two (2) character references from non-relatives who have known the applicant(s) in the country of which he/she is a citizen or was a resident prior to residing in the Philippines,
n. Police Clearance from all places of residence in the past two years immediately prior to residing in the Philippines.
7.  How long does it take to complete the adoption?

On the average, it takes nine months from application to finalization of adoption, simulating the normal period of pregnancy.

8. What is a home study?
A home study is a case study on the adoptive applicant(s) conducted by a social worker to determine their capabilities for adoptive parenthood. It is done through a series of office interviews, home visits, observation and collateral interviews. The conduct of a home study on the prospective parent or family is required by law.
During the home study period, the applicants are given the chance to indicate the age, sex and general characteristics of the child they wish to adopt.
9. What are the costs involved in adoption?
a. Social Process
Pre-Adoption Forum and Application
P 1,500* – couple
P 1,300* – single
Adoption Home Study
P 5,000*
Issuance of Pre-Adoption Placement Authority (PAPA) and six (6) months placement supervision
P 7,500*
Child Case Study (for independent placement)
P 3,700*
* Fees are as of December 2015
b. Legal Process
Lawyer's Fee
Newspaper publication of the adoption petition
Court fees (docket fee, stenographic notes)
Fees for adoption registration and issuance of amended birth certificate
10. What post-adoption services are available to the family?
Adoption is a life-long commitment. KBF thus continues to provide social services to adoptive families and their children beyond the point when the adoption is legally finalized. Among such services are counseling, parents group sessions, referrals, and assisting in the search for the child's birth family (if so requested).
11. What are the benefits of adoption?
The adoptive parents shall, with respect to the adopted child, enjoy all the benefits to which biological parents are entitled. Maternity and paternity benefits and other benefits given to biological parents upon the birth of a child shall be enjoyed if the adoptee is below seven (7) years of age as of the date that the child is placed with the adoptive parents through the Pre-Adoption Placement Authority (PAPA) issued by the DSWD.
The adopted child shall, in turn, enjoy the same rights, status and privileges of a legitimate birth child of his/her adoptive parents as stipulated in Executive Order No. 209, The Family Code of the Philippines, and in R.A. No. 8552, The Domestic Adoption Act of 1998.
SOCIO-LEGAL PROCESS FOR DOMESTIC ADOPTION


Step 1: INQUIRY
  Inquiry via phone call / letter / office visit

  Attendance at KBF's Domestic Adoption Forum
Step 2: APPLICATION
  Submission of completed application form

  Submission of required documents as enumerated in question no. 6
Step 3: ADOPTION HOME STUDY
  Individual and joint interviews of applicant adoptive parents

  Home visits / Collateral interviews

  Submission of additional documents, where indicated

  Completion of Home Study Report

  Submission of Home Study Report to DSWD for approval
Step 4: FAMILY SELECTION / MATCHING
  Presentation of Home Study Report of approved adoptive applicants in a matching case conference at DSWD to match them with a child legally free for adoption
Step 5: PREPARATION FOR PLACEMENT
  Sharing of the child's information by the social worker to the adoptive applicants matched with him/her

  Visiting of the child by the adoptive applicants and social worker

  If the match is accepted by the applicants, preparation of the Pre-Adoption Placement Authority (PAPA) by the social worker for DSWD approval

  If the match is not accepted by the applicants, presentation of their Home Study Report in subsequent matching case conferences (maximum of 3 times)
Step 6: PLACEMENT
  Physical transfer of the child to the adoptive parents
Step 7: SIX MONTHS SUPERVISED PLACEMENT
  Monthly home visits by the social worker

  Phone calls / counseling

  Preparation of three (3) supervised placement reports by the social worker
Step 8: FINALIZATION OF ADOPTION
(if supervised placement is satisfactory)
  Request by KBF of DSWD's consent for finalization of the adoption

  Filing of adoption petition in court by the adoptive parents' lawyer

  Publication of the adoption petition in a local newspaper

  Court hearing(s)
Step 9: ISSUANCE OF ADOPTION DECREE / AMENDED BIRTH CERTIFICATE
  Issuance of the adoption decree by the court

  Issuance of the amended birth certificate by the Local Civil Registrar
For more information, contact KBF at:
#56 10th Avenue, Cubao, Quezon City 1109, Philippines
Tel. no. (+63)2-912-1159
Fax no. (+63)2-912-1160
Mobile: (+63)917-311-4795
Mobile: (+63)917-311-4795
Email: kbf@kbf.ph
ABOUT KBF
Kaisahang Buhay Foundation Incorporated is a private, non-profit child and family welfare organization duly licensed and accredited by the Department of Social Welfare and Development (DSWD). It is registered with the Securities and Exchange Commission, and certified as a donee institution by the Bureau of Internal Revenue and the Philippine Council for NGO Certification. The organization's name, Kaisahang Buhay Foundation, stands for oneness within the family and meaningful life for the children it serves.